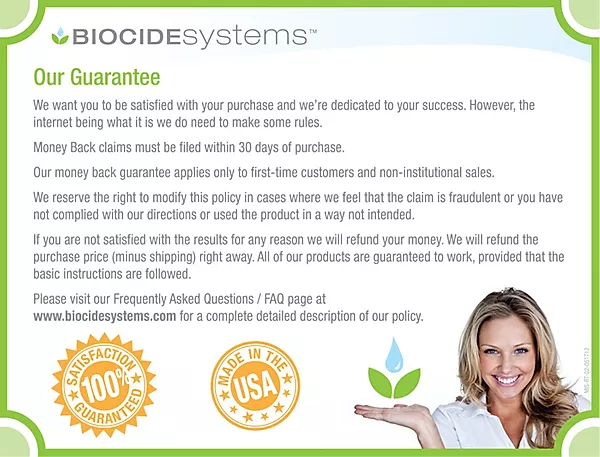 We want you to be satisfied with your purchase and we're dedicated to your success. But, the internet being what it is (the wild west for people who try to get things for free), we do need to make some rules. Here they are:
We will refund your money if the product does not work as advertised. We've sold (and used) a lot of these, so we know they work. There are really only two ways that they don't work: they are used incorrectly, or (rarely) there is a packaging defect.

If you believe that you have a packaging defect (as in you did not notice any chemical odor when used as directed and the water in the cup did not turn yellow, then please call us and arrange for a return. We will need for you to return the outer foil pouch (for the batch code). See directions below in "How to Return A Product That Didn't Work". You can choose to get your money back and we will refund the purchase price (minus shipping) upon receipt of the returned product. We can also ship you a replacement for free if you would rather try it again.

The more common (though still rare) situation is that the product is used in a way that is incorrect. These include: using the product in direct sunlight, using the product in too large of an area (ex: using one for whole house) or where there is too much organic matter for it to deodorize (such as dirt-floor basements (it will try to deodorize all the dirt in the basement) or where there the odor source (vomit, musty odors, organic material, etc.) has not been removed. We will typically request that you send back the original product (directions below in "How to Return A Product That Didn't Work") and that you consult with our customer support reps regarding how the product should be used. We may choose to send you a replacement product at that point.

Our money back guarantee applies only to first-time customers and non-institutional sales. That is, we will only refund purchases of 4-packs or less and only from first-time customers, and only when the products have been returned (directions below in "How to Return A Product That Didn't Work").

Return or refused shipments will incur a 25% restocking fee. All products must be return in good condition and in its original packaging.

We reserve the right modify this policy in cases where we feel that the claim is fraudulent or you have not complied with our directions or usedt he product in a way not intended.

If you are not satisfied with the results for any reason we will refund your money. Just email us a description of how it was used, and the reason why you are dissatisfied. We will refund the purchase price (minus shipping) right away. All of our products are guaranteed to work, provided that the basic instructions are followed.